The soft solution for the challenging eye
The Microlens Rx series includes a complete medical line of custom-made soft lenses: for keratoconus and the Post-Lasik cornea, among others. In addition, there is a wide variety of bandage lenses. There are also therapeutic and cosmetic filter lenses and iris-print lenses. Almost all these contact lenses are available in a spherical, toric, multifocal and multifocal toric variant.
The Microlens Rx KC is a custom-made soft keratoconus lens with a unique design. Due to the patented dynamic stabilization, the limbus area receives the same oxygen supply as a standard prismatic contact lens. This soft keratoconus contact lens is available with single or multifocal optics. The Microlens Rx KC is available for a different grades of keratoconus. The design gives the wearer the wearing comfort of a soft contact lens with the visual performance comparable to that of a GP contact lens.
De achterzijde van de Microlens Rx PS kan volledig worden aangepast om een perfecte pasvorm te krijgen na een Post Lasik, Post Graft of andere corneale en sclerale onregelmatigheden. Door het gepatenteerde ontwerp is de zuurstoftoevoer en het comfort hetzelfde als bij standaard zachte contactlenzen.


For 10 years Myopia Management with the Microlens Rx Relax
The soft Microlens Rx Relax contact lens was developed by Swisslens and has been on the market since 2010 and has proven its effectiveness. This custom-made contact lens is available in both spherical and toric versions and can be optimally adapted to the eye due to the wide range of parameters. The lens is available in Excellent and Ultimate material and has a life span of 3 to 6 months.
The Microlens Rx Relax is certified and suitable for myopia management in children between 8 and 18 years of age indicated with progressive myopia. With the proven technology of an optimized Hyperopic Defocus Control (HDC™) the relative peripheral hyperopia is corrected. The size and starting point of the HCD™ is variable due to the adjustable optical zone diameter. This ensures an optimized image centrally on the retina as well as in the periphery.
Read more in our Microlens Rx Relax brochure

Large soft bandage contact lens of 17.0 or 18.0 mm with a spherical optical zone and aspherical flattening.

Extra large soft bandage contact lens of 21.0 mm with a spherical optical zone and aspherical flattening.

A soft contact lens specially designed for babies with a special optimized optical zone for better handling.
In cases where measurements cannot be made, the following chart of default values may provide some assistance in selecting the first contact lens:
There is a possibility to have certain Microlens Rx lenses provided with a color filter. This is possible on the Microlens Rx Spheric, Toric, Multifocal, Multifocal Toric, PS and Relax. The Microlens Rx Color contact lenses are tinted in exclusive translucent colors. The advantage of translucent colors is a very natural result: The structure of the iris will still be visible, but in vivid colors. Different iris diameters are available. You even have the choice whether you want a bright or tinted pupil. The translucent colours have no negative influence on the Dk-value.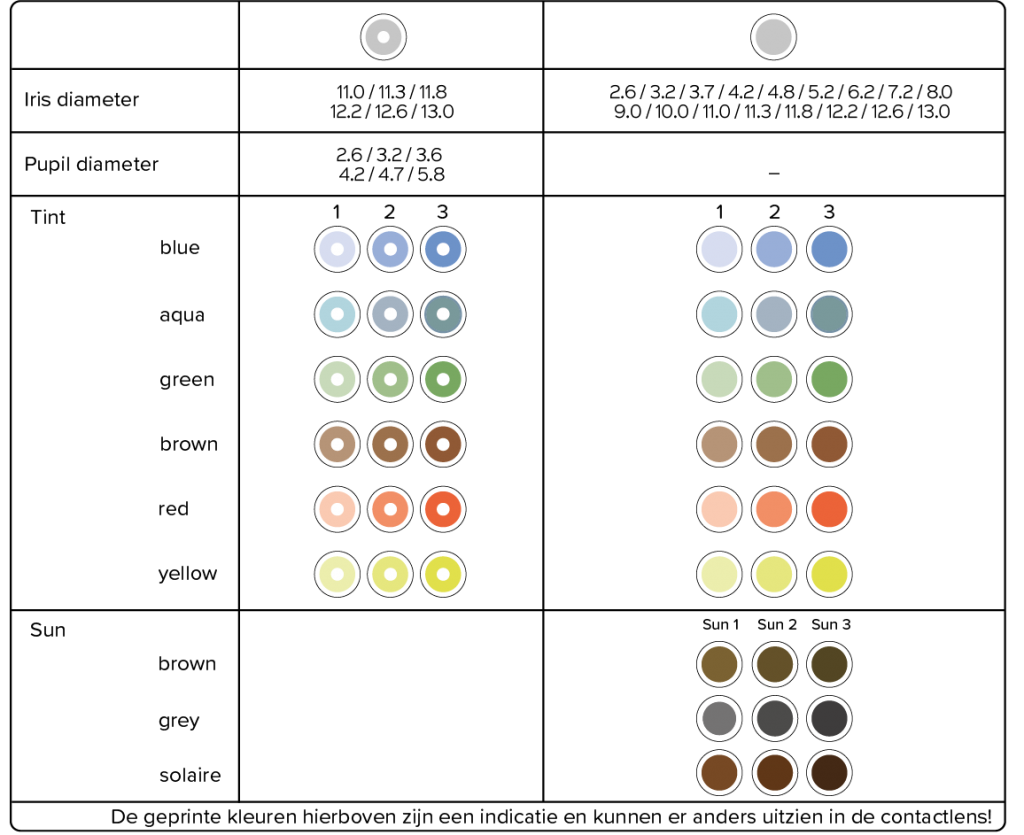 A soft custom-made irisprint lens with a large choice of natural-looking standard colours. The thin and comfortable contact lens is made of high quality material (CFT 67%). An extensive range of custom-made contact lens parameters are available (Microlens Rx Spheric, Toric and PS) and iris and pupil diameters in different sizes. The lenses are hand coloured, with clear or black pupil. The exact color tone as well as the color intensity are fixed and documented using the color code. This makes an exact re-order very easy, in contrast to other hand painted lenses.
The dye in the contact lens material is fixed (no sandwich, no paint on the surface) and has no influence on the thickness of the contact lens and is therefore independent of the contact lens parameters. The Dk-value for the coloured contact lens is the same as for a normal contact lens, no reduction in oxygen permeability!